5.00 star(s)
Rating: 5.00/5 1 Votes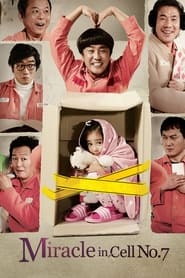 Title:
Miracle in Cell No. 7 (2013)
Tagline: If caught, they're all doomed!
Genre: Drama, Comedy, Family
Director: Lee Hwan-kyung
Cast: Ryu Seung-ryong, Park Shin-hye, Kal So-won, Jung Jin-young, Oh Dal-su, Park Won-sang, Kim Jung-tae, Jeong Man-sik, Kim Ki-chun, Park Kil-soo, Jo Jae-yun, Jo Deok-hyeon, Kang Ye-seo, Park Sang-myeon, Jung Jae-min, Choi Ro-woon, Jung Han-bi, No Kang-min, Lee Yun-hee, Kang Seung-wan, Lee Seung-yeon, Yeo Moo-yeong, Yoon Sun-woo, Kim Se-dong, Lee Yun-hui, Han Seong-yong, Jeong Moon-yeop, Jung Hee-tae, Jeon Hun-tae, Kim Bae-gun, Oh Chang-kyung, Im Jae-min, Min Jung-ki, Song Lee-woo, Kyul Hwi, Cho Joo-kyoung
Release: 2013-01-23
Runtime: 127
Plot:
A story about a mentally ill man wrongfully imprisoned for murder and his relationship with his 6 year old daughter.
https://www.themoviedb.org/movie/158445-7